PREMIER LEAGUE FOOTBALL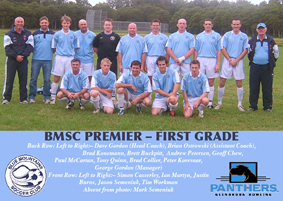 PREMIER LEAGUE FOOTBALL
Blue Mountains beat Blaxland 2-1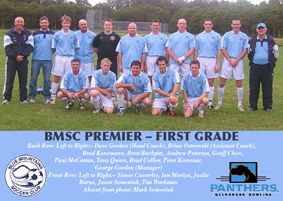 Blue Mountains Premier League 1st grade side took on Blaxland in the local 'derby' on Sunday 27.05.07.
As usual this game was played at great pace with either side willing to take a backward step. In the early exchanges Blaxland were on top and within 5 minutes created a great chance at the far post, only to see the shot go over the bar. Blue Mountains then tried to settle on the ball; however consistent pressure from Blaxland saw them turn the ball over on numerous occasions. Blaxland continued to break out quickly which saw the "Blueys" defence back peddling in order the keep them out.
Geoff Chew saw his shot just go wide in the closing stages to the 1st half and that's how the score remained at halftime.
The 2nd half saw Blue Mountains pushing forward in order to break the deadlock, however some wrong options were taken and the play continued to break down. Blaxland were given a corner around the 50 minute mark which they scored from after some slack marking from the Blue Mountains defence. Brad Konemann was introduce to the game with 30 minutes remaining and had an impact straight away by scoring the equalizer within 5 minutes of coming on.
With the match all square at 1 all it seemed that a draw was inevitable until Brett Buckpitt pushed forward with 3 minutes remaining created some space for himself in the middle of the park and shot from 25 metres out. The shot beat the Blaxland keeper in the bottom right corner thus securing a 2-1 win for the "Blueys"
Players/Player of the match went to Brad Collier, with Tony Quinn and Peter Korevaar also getting votes.
This win gives the Blueys boys some breathing space at the top of the table, however with 12 games still to go nothing can be or will be taken for granted.