Telstra Foundation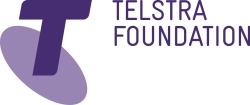 Telstra Foundation

Telstra's Kids Fund is a valuable means by which Telstra employees can direct Telstra's philanthropic giving and support their local communities across Australia. Each year $750,000 is given to local community organisations on behalf of children related to Telstra employees. Permanent Telstra Group employees can apply for a Telstra's Kids Fund grant of $1,200 to support a project or activity run by a non-profit organisation involving a child, 18 years or under, in their immediate family. In our case, Mark Ansell was successful in his application for BMFC to receive funding. Thank you, Mark! Thank you, Telstra Kids Fund!

Click here to learn more about the Telstra Kids Fund: http://www.kidsfund.telstrafoundation.com/dir148/tfweb.nsf/telstraskidsfund/telstraskidsfund?OpenDocument&menu=3

We have spent our $1,200 donation on new pug goals for our U5-U7s teams (with the replaced goals may available for training purposes by any of our teams) and on lots of agility poles. The poles are kept up in the amenities block, so that they can be accessed during the week and used for training purposes by any of teams (please note: not suitable for training younger players).

Blue Mountains Football Club would like to acknowledge and thank Telstra for their generous support of our Club and its teams.