Match Report U13.5 – 4 June, 2005 **Photo**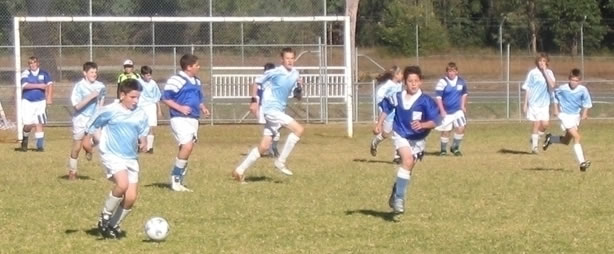 This week's featured report shows once again how great team work pays off.
| | |
| --- | --- |
| BMSC | 9 |
| vs | Warradale |
| Opposition Score | 3 |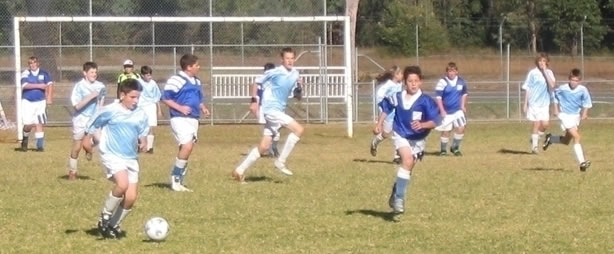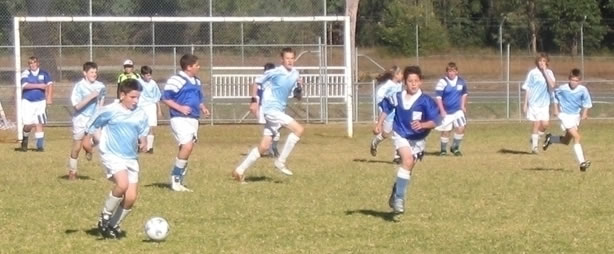 Match Report

Great teamwork plus Robert's 4 opportunistic long-range goals resulted in a well-earned win. The backs defended well around Steven, Liam and Tim did some great work on the left flank and Otis scored 3 goals in a great team performance.

The game started with Warradale scoring from a breakaway after 5 minutes. But backs Tim, Sarah, Ellie and Steve soon gained control at the back while Liam, Scott and Ben in midfield were combining well providing good service to forwards Ferret, Brenton and Robert.

After 12 minutes Scott pushed the ball forward and Robert scored with a lob over the goalkeeper's head from outside the penalty area.

3 minutes later, Robert set Brenton off up the right wing, and Robert was able to connect with Brenton's cross to score his second.

25 minutes into the game Ben intercepted a Warradale clearance, the ball fell to Robert who scored an opportunistic goal from 25 yards with the goalkeeper off his line.

2 minutes later Warradale reduced the margin from a goalmouth melee after James bravely came out to smother a breakaway.

Blue Mountains 3 goal margin was restored 3 minutes later when Scott set Brenton off up the right wing and Brenton finished his run with a fine angled shot which beat the Warradale 'keeper.

Just before half-time Robert scored yet another long range goal after the ball fell to him on the edge of the penalty area, this one coming off a post and running slowly along the goal line before going in.
Warradale came out strongly in the second half and again scored within the first 5 minutes, this time with a high shot which James reached but could not stop. But 3 minutes later Scott did well to intercept a Warradale clearance, passed to Otis who took his time and slotted the ball home.

15 minutes into the second half, Ferret crossed the ball to Ellie who was able to pressure a Warradale defender sufficiently to force him into scoring an own goal.
3 minutes later James started a move up the left wing where Liam and Tim combined well, with Tim crossing to Otis who scored his second goal with a well-placed shot.

Finally in the last few minutes more Blue Mountains pressure culminated in Tom passing to Otis who completed his hat-trick with a great shot from the edge of the penalty area for the team's 9th goal.


Goal Scorers
Robert 4, Brenton, Otis 3, Own Goal
Player of the Match
The whole team!