Gordon – Wins FNSW State Award !!!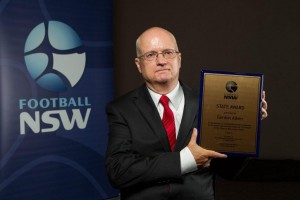 Congratulations, Gordon – Wins FNSW State Award !!!
Football NSW's State Dinner was held at the Rosehill Gardens Grand Pavilion last Saturday evening (8th November) in what was a fantastic celebration of community football with Manly Association's Ray Fanning awarded the prestigious George Churchward Medal while Nepean Association's Gordon Aiken scooped a state award.
NSW Minister for Sport and Recreation the Honourable Stuart Ayres, Member for Mulgoa Tanya Davies, Member for Smithfield Mr Andrew Rohan, Member for East Hills Mr Glenn Brookes, FFA's Head of Community Football Emma Highwood, Football NSW Life Members, Football NSW CEO Eddie Moore and Football NSW Directors all came together to recognise and acknowledge the elite few who have provided consistent and invaluable service at the community level.
Hosted by Football NSW President Greg O'Rourke, the evening kicked off with the presentation of the State Award winners.  State Award winners are nominated by their Association in recognition of their tireless efforts and service to football in their local community. They formally recognise individuals who have provided consistent and valuable service at any level – Club, Association, Branch or State. These contributions may include services such as: committee member, coach, manager, match official, canteen manager or grounds person.
Gordon Aiken – Bio
Gordon has been a member of his club since 1989; he sits as its longest serving committee member (continuously since 1994) and was accepted as a club Life Member in 2003.
Gordon's involvement with Blue Mountains FC began in 1989, not as a player, but as an interested parent, when he registered his two sons to play with the club.  25 years later, he's still there!  Gordon has been either a coach or manager for all of his children's teams.  Early in the piece, he completed his Coaching credentials, to make sure he knew all the rules, as he'd never been a player.  He always encouraged the kids, whether they won or lost – and he stills has that admirable sense of sportsmanship which is evident in everything that Gordon does.
As a committee member with a 21-year tenure, he has held all positions from General Committee Member to President, with the exception of Treasurer and Registrar.  For the past decade he has been the Club's Vice President and Competition Secretary, but for his fellow committee members (and to quote the current club President) "he's our font of all knowledge, a reasoned voice amidst the chaos and an invaluable club member who would be extremely hard to replace".
Gordon goes about his business quietly. In doing so, he enriches the landscape of Nepean Football Association, beyond what he could ever imagine, and for that, we are in his debt.