Gemma Morgan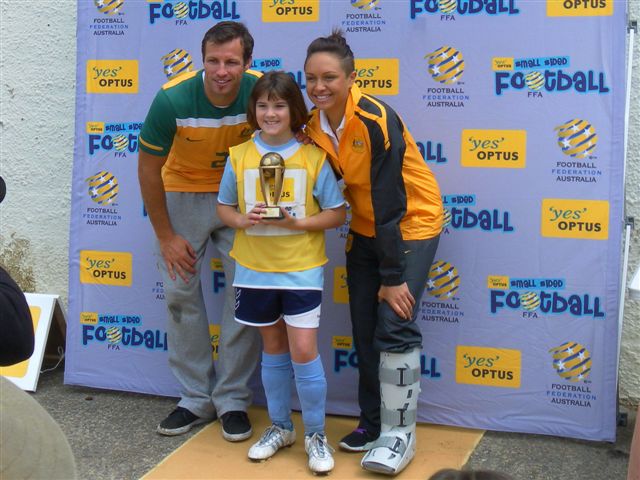 Lucas Neill Leadership Award winner – Gemma Morgan (U8 Sharks, 2011)
Thought you would like to know what happened to Gemma on Monday, 3 October 2011.
Mid last year, Gemma was nominated for one of the Optus Small Sided Football awards.  The awards call for nominations for kids who play football from all over Australia; Gemma was nominated for the Lucas Neill Leadership Award.
In late September, the Morgan family was advised that Gemma had made it to the finals and she was invited to attend the awards ceremony, which included a training session with Lucas Neill.
So Monday arrived and Gemma and some of her friends from BMFC participated in a training session with both Lucas Neill from the Socceroos and Kyah Simon of the Matildas.  Following the coaching session, the award ceremony commenced.
And the winner of the Optus Small Sided Football Lucas Neill Leadership Award was … Gemma Morgan!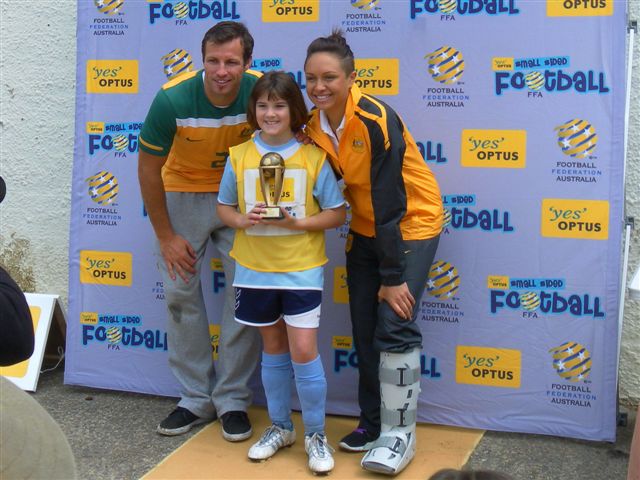 (Go to http://www.optusfootball.com.au/ossf/winner to view Lucas' pre-recorded announcement of the winners).
Lucas said that what impressed him about Gemma's nomination were her leadership behaviours, in particular that she assisted other players by showing them how to do some of the drills and pro- actively organised training drills for the team if the coach was busy.
After the announcement, Gemma was whisked away for interviews with newspapers, Girl Power Magazine and Channel 9 News.  The following link shows Gemma, some of the other finalists and her friends from BMFC having the coaching session with Lucas.  The footage is towards the end of the video, after the Optus ad http://today.ninemsn.com.au/?videoid=6f50fa4a-ad5f-43d8-a662-15bfc6f6d408
Cameron Morgan, Gemma's dad said that all in all, it was an exceptional experience for Gemma, the Blue Mountains FC players that went along and, of course, her parents.  "We are very proud of Gemma and would like to thank both Blue Mountains Football Club and Football NSW for their support in Gemma's development."
Click on the links to view media articles; selected photos from the day are below – Penrith Press, Mosman Daily (p18) , Mosman Daily (p19).
about the "Optus Small Sided Football – Lucas Neill Leadership Award"
The Lucas Neill Leadership award is for a young player who's shown not only skill on the pitch, but demonstrated ability to push the squad and lead from the front.
They don't have to be the best player. Far from it. We're looking for someone who always tries their best.
Someone who's always willing to learn new skills and helps other players to be their best. The chosen player gets a signed jersey, and a training session, with Lucas Neill for them and their team. Not bad.