Match Report O35.2 (21-07-2013)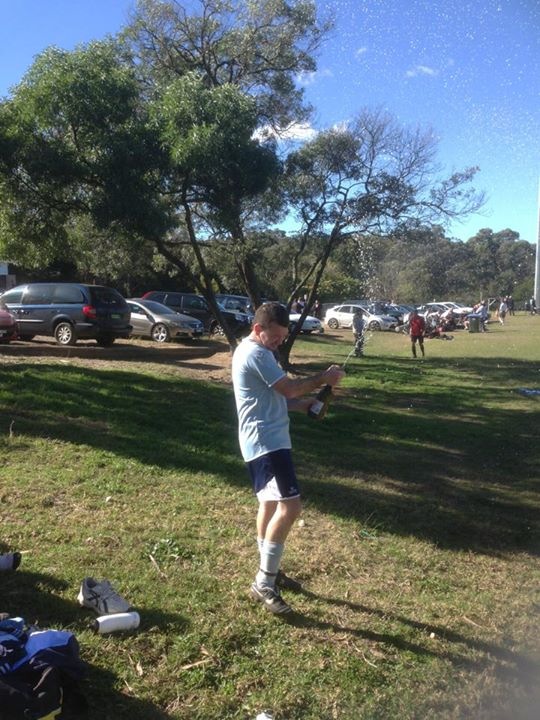 Match Report

Having not made it to the top of the table all season luck would have it that we could get there after the final game of the season but only if we won.

We were up against the team we tussled with all last season and just pipped in the Grand Final so were sure they wouldn't hand us the win without a fight – this proved spot on.

No ref meant that Coach DG stepped up to the plate. We had 84.6% of the possession in the first half but unfortunately the forwards were misfiring like a pair of 40 year old Holdens. The Penrith keeper was a having a great game, saving the shots we did get on target. Late in the half we won a penalty when Captain Underpants was sent flying in the box. Cometh the hour, cometh the Ice Man….calmly slotting the pen away off of a couple of strides. Half time 1 zip.

In the second stanza we continued our dominance in possession but this half the goals started to come. First up Rash, surging forward from the heart of defence to link up with Kojak and fire solidly across the keeper into the corner. 'Finally a shot on target' were the unspoken, but now written, words that everyone was thinking, including Rash!

Further goals from Harry after a spill from the keeper and Nude Nut, driving into the box and shooting back across the keeper put a bit of gloss on the victory.

After the game, Rash took La Celeste and JB to one side for a good twenty minutes to give them some tips on finishing. In the photo below we can see Rash celebrating his 'goal of the season' (according to Rash) with all of his friends.

Team photo: Back row (l to r): Rash, Buggy, Ice Man, Craig, Choppy, Ipswich, Dr Eggman, Roberto, Zap.

Middle row: Captain Underpants, Dicky Knee, Harry, La Celeste, Sean.

Front row: Con, The Kaiser, Harry, Aiden.

Goal Scorers

Ice Man (pen), Rash, Harry, Cue Ball.

Player of the Match

The whole team!