Match Report U9 Wolves (21-07-2012)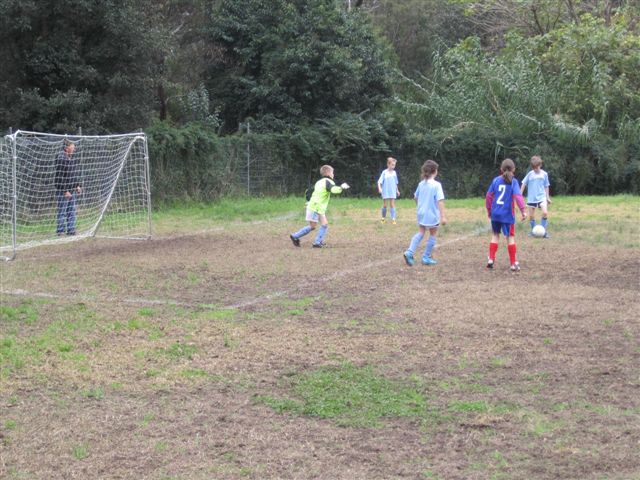 Match Report

BMFC U9 Wolves vs Hazelbrook Bears

It was hard going for the Wolves this week and we struggled to put our game together, but some good fight and desperation to try and keep us in it.

Hamish's attack on every contest and determination to win the ball was outstanding and he turned defence into attack for us numerous times. Great stuff Hamish, keep it up!

Kynan won some good ball in the middle of the ground and made great efforts to play the ball on to our advantage. Also really good efforts to using his voice to talk to his team mates. Well done Ky!

Josh took it upon himself to fight hard until the very end, not giving up and made two really piercing passes through the Hazelbrook defence, Alex not having to break stride as he ran towards goal. Also great to hear Josh using his voice to talk to his team mates, even calling them out as he was about to pass them the ball. Great Work Josh and well deserved Player of the Week!

Alex provided his usual dominating run but also made a great effort to follow our pre-game tactic to run the ball wide and centre the ball up forward. Also some great touch to get past some pretty big Hazelbrook defenders. Great Work Alex!

Lachie was great running to position and continued to show good composure when he had the ball to make a the right decision when looking to pass. Excellent stuff Lachie!

Layla started forward and tried hard to run to the right positions and eventually found herself home in defence. Continues to show great skill and composure when taking possession of the ball in defence, never panicking. Great work Layla!

Luke and Martin were our goalies this week and were both courageous right until the end in the spirit of our former team mate and awesome goalie, Brodie Cavanough who we remember this week. Brodie would be proud of your efforts guys. Great job Luke and Martin!

Much Wolves respect to Wendy, Pete and Tyler.

Goal Scorers

Player of the Match

Josh Drake.