Excellence in Club Administration
Excellence in Club Administration Award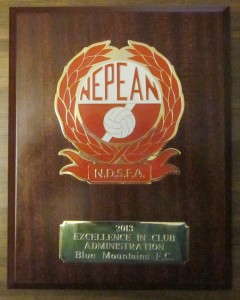 Last November, BMFC was awarded the prestigious Linda Cerone 2013 Excellence in Club Administration award by Nepean Football Association.  We missed out on winning this same award in 2012 by only one point, so to receive it for 2013 was a great honour.
This is a Club award and all members had a part to play, as one of the criteria is the dealings and attitude by all club members to other players and clubs.  It belongs to all members and is not just a committee award.
This award also recognises that the committee of BMFC works together with the aim that club members enjoy their game and that the club assets, funds and facilities are well-managed.  (On the Administration side, until I joined the Board, I was unaware of the amount of work that goes into the working of a sporting club – player registrations, team nominations, games sheets, canteen rosters, just to mention a few).  For a full list of the criteria, click here.
Receiving this award does not mean we win the most games or have the most teams; what it does say is our club is a fine member of the football community and all members should be proud.
David Smith
President BMFC